BACK TO BLOG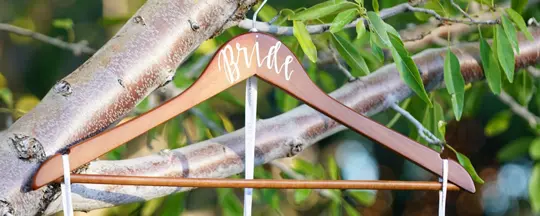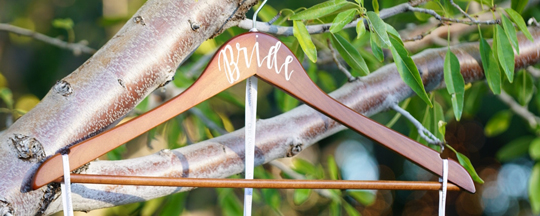 Everyone wants a beautiful wedding that has details that come together to make it seem effortlessly beautiful. As a bride, there are SO many choices to choose to spend your time on in the days leading up to your big day. It is easy to get bogged down in every tiny detail. Luckily there are blog posts like this to hopefully create some perspective. Let's talk about "The Hanger"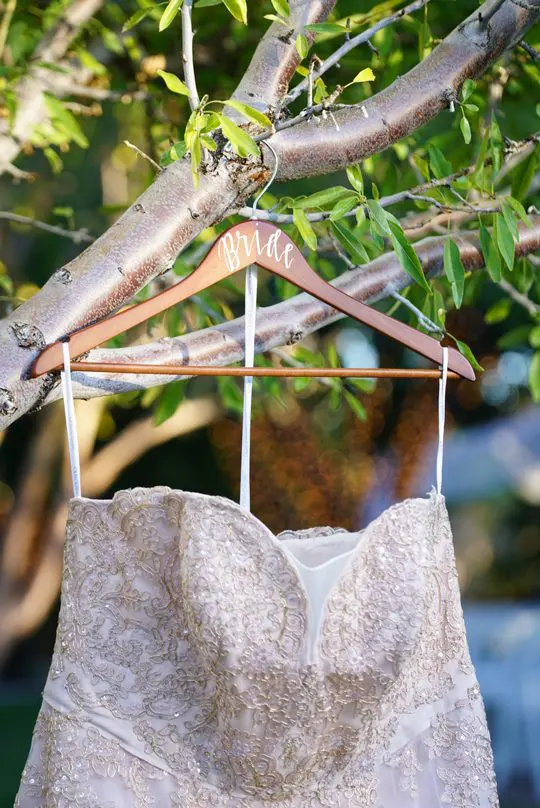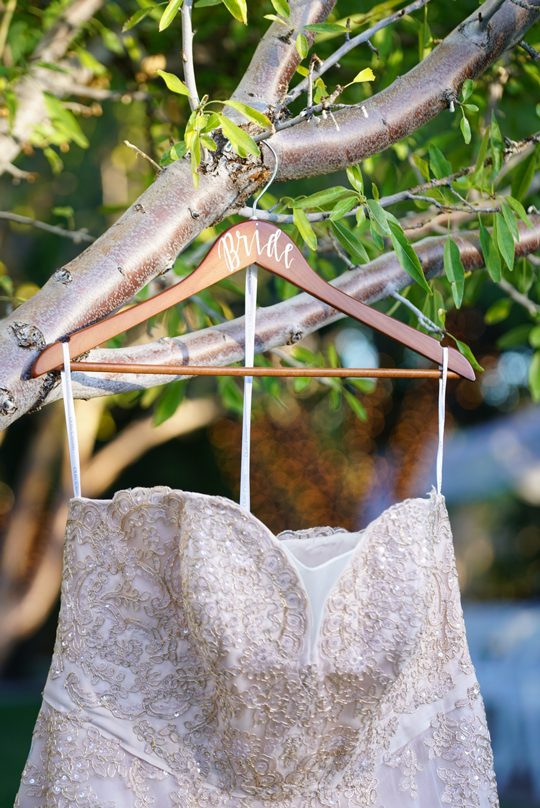 Now, why a hangar? It is not something the guests can see immediately. So why bother?
The simple hangar can elevate your wedding photographs from a simple wedding to an elegant occasion to remember. It can add a certain bit of fun or class to your wedding photos without taking a large amount of time or money to achieve. And of course I am biased as a wedding photographer that arguably your photos are the most important part of your wedding day next to the marriage certificate.
As a wedding photographer, I can tell you that your wedding dress photos do not nearly hold the same impact if your beautiful dress is hanging on a drab wire hangar. The naked wire hangar does not hold the same amount of elegance, personality, or respect towards the wedding dress.
So how to spice up that wedding dress hanger?
If you are a DIY bride like I was, feel free to experiment with that wire hangar and write names in wire, hang items from the top, paint it fun colors, or switch it out for a wooden hangar and experiment all over again.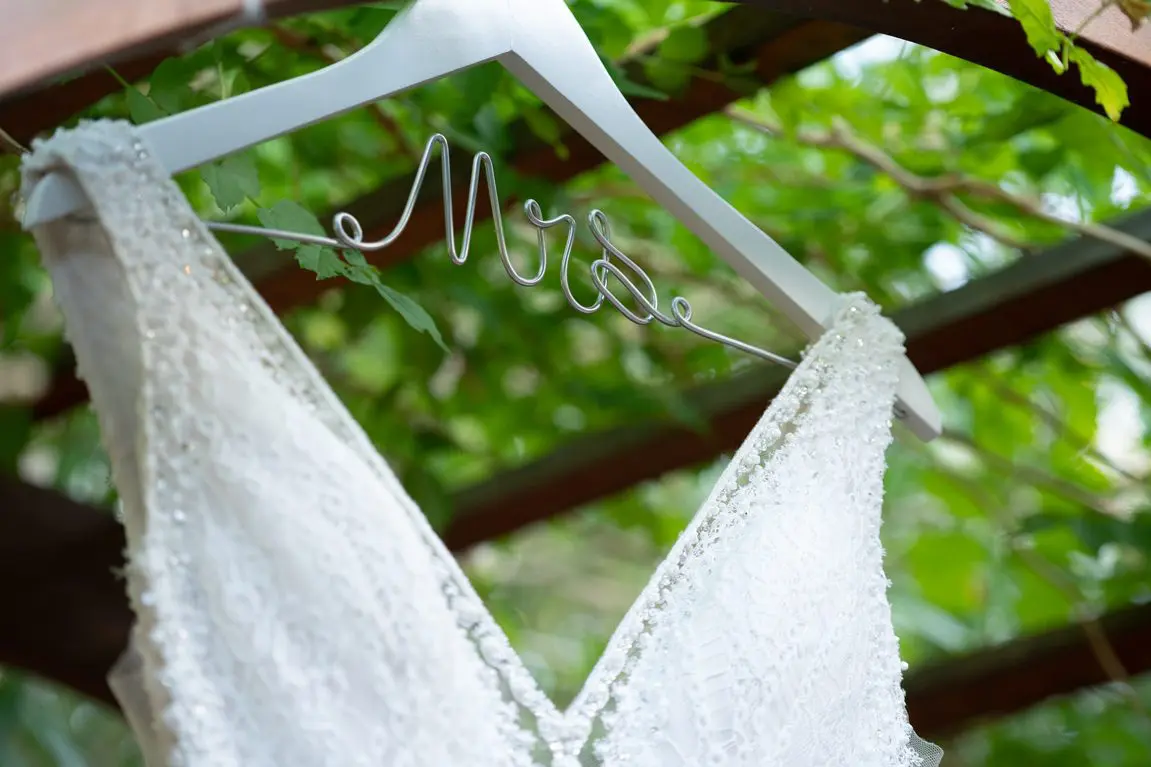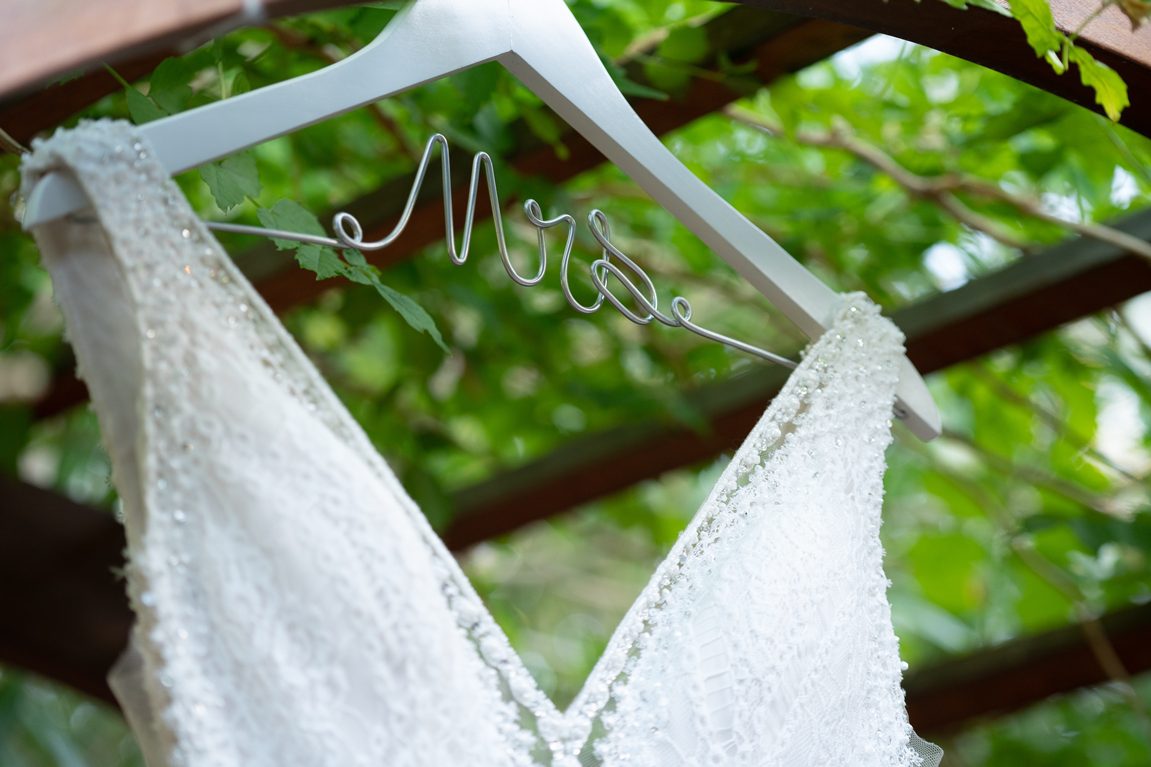 For everyone that is not as much DIY, fear not! Because the crafty have got you covered.
There are companies that exist to make your wedding details budget friendly and easy to order. It saves you time in your hectic wedding planning and makes your wedding photos pop (especially in a wedding album!).
My current favorite type of wedding hanger goes with 90% of the weddings I photograph. The wooden hangar. It is so simply classic and is easily customizable by adding names painted on the outside.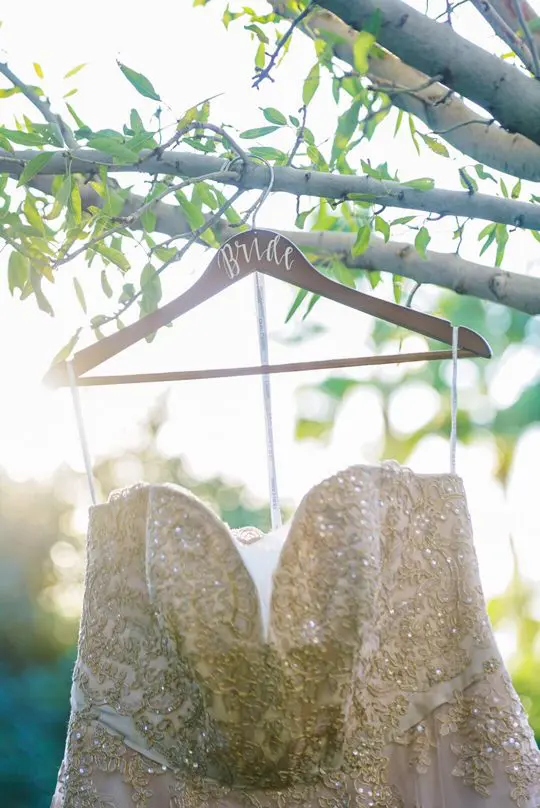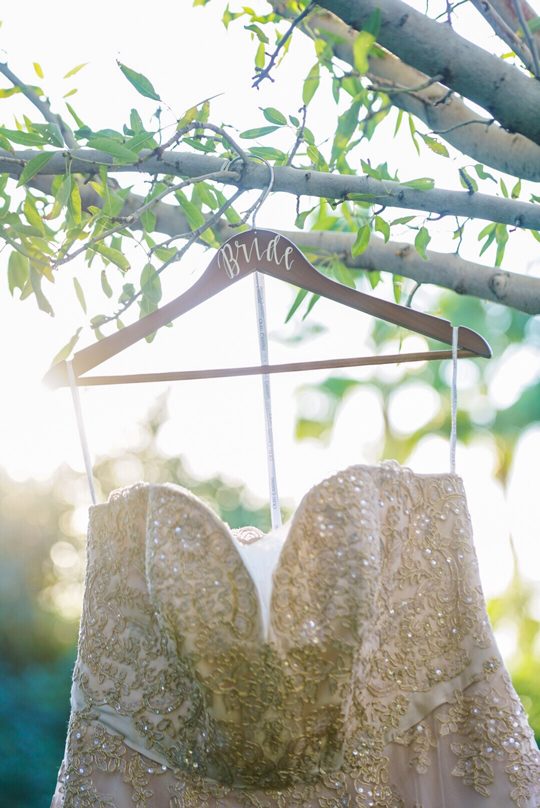 Take this hanger by Bridesmaids Gifts Boutique for example. The dark stain of this wood in contrast with the white paint is very rustic but can easily fit in with a classic Vegas style wedding. Their hanger, "Hang By Me" (pictured), is personally my favorite style. Not to mention customizable?! Yes! Names and dates. Which makes it easy to order for bridesmaids as well as for the bride. https://www.bridesmaidgiftsboutique.com/products/hang-by-me Their "Dress Me Up" hanger is a good example of a fully painted wooden hangar. Classically white/light colored wood/black with a cursive name in whatever color your want! https://www.bridesmaidgiftsboutique.com/products/dress-me-up
Don't forget about your wedding party either! This part is extremely convenient for me, your wedding photographer, and for speed on the wedding day. By personalizing the hangers for your wedding party you're ensuring that you know who's dress/suit is who's. It's not major but it is a little of a hassle to identify which outfit is who's correctly usually. It costs time and can cause unnecessary headaches. Especially since the wedding day usually emotions run high and time runs short. If they are all the same..save some hassle and get them each a hanger that they can then keep afterwords as a gift.
In conclusion. A nice hanger matches the elegance of the wedding dress, is easy to make, even easier to purchase, can elevate your wedding photos, which makes them look awesome in a wedding album, saves time for your wedding party, saves the headache of guessing which outfit belongs to who, and can double as a gift to your wedding party.
Looking forward to seeing your beautiful wedding photos!!!! – Shannah