BACK TO BLOG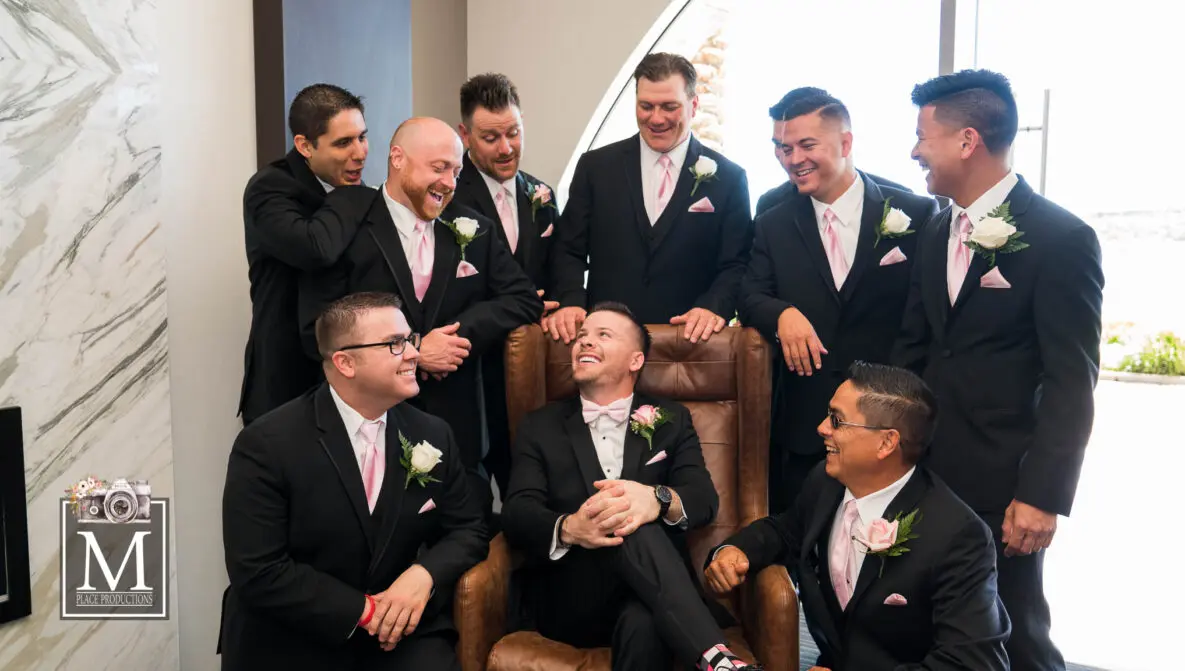 Photos to Capture with Your Groomsmen on Your Las Vegas Wedding Day
From your bachelor party to everyday life, your groomsmen have played a huge part in making your life memorable. And, on one of the most important days of your life, your groomsmen are standing by your side as you take a huge step towards your future. Capturing them within your wedding album is a great way to remember the energy and support that they contributed to your wedding day.
Creative Wedding Photography Styles
Posing and smiling in your photos is great, but there are more ways in which you can take memorable photos with your groomsmen. Are you aware of what they are?
Here at M Place Productions, we believe that your groomsmen deserve to be represented during your wedding, and photography is a wonderful way to do just that! That's why we have put together a few photos to capture with your own groomsmen on your Las Vegas wedding day. Be sure to continue reading to fuel your inspiration:
-Guys Getting Ready. There is no doubt that you and your groomsmen will be up to your own shenanigans before your wedding entrance. After all, getting all of you together in the same room is bound to create unforgettable moments. Capture you and your boys suiting up before your ceremony.
-Before Your Ceremony. After you are suited up, there will likely be plenty of time before you walk down the aisle. You will get to relax with your boys, have a drink to ease any pre-wedding jitters, and reminisce about the good old days and how all of it lead up to your wedding day. Photographing this time within your wedding will create organic photos for your album.
-Saying Good Bye to the Single Life. After you walk down the aisle, you will have a partner in life. You will be single no longer. Toast to this special moment with your groomsmen, as they are likely sad to see you go, but beyond thrilled that you are so happy and have found your special someone in life.
Tips for Being Relaxed for Your Wedding Photos
Great photos with your groomsmen is a must! These photos will not only capture your fun times together but will also showcase your friendship through the years. Here at M Place Productions, as a Vegas wedding photographer, we are happy to capture your special day. Please get in touch with us today as we would be honored to be your wedding photographer in Las Vegas, Nevada.