BACK TO BLOG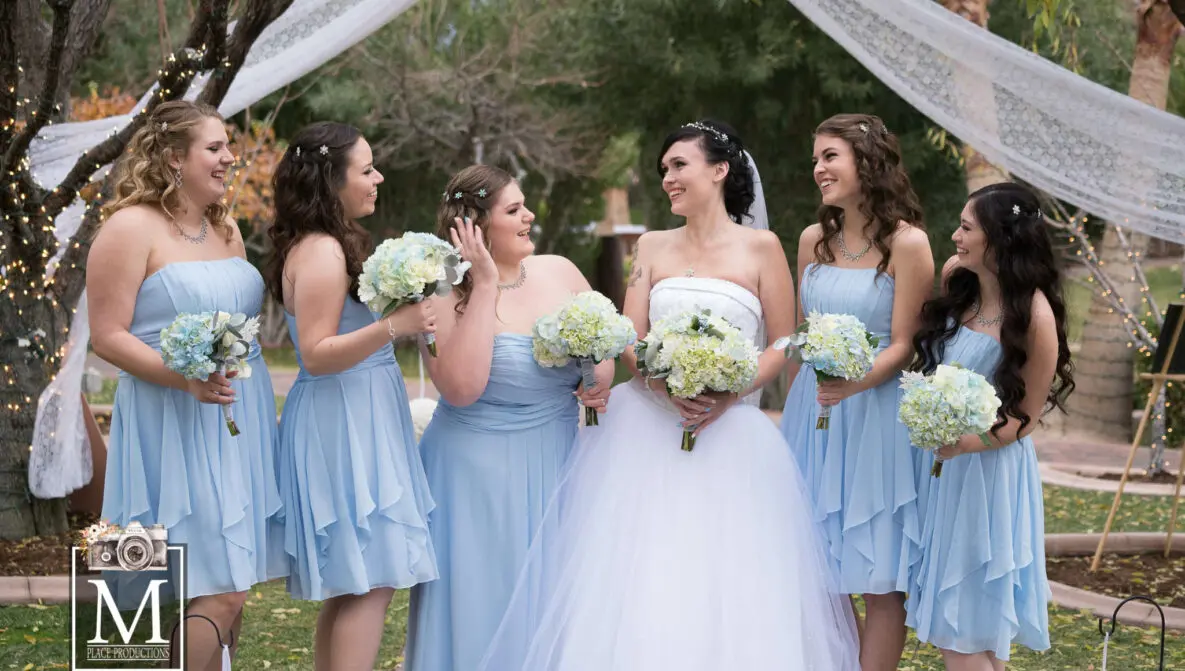 Photos to Capture with Your Bridesmaids on Your Las Vegas Wedding Day
Your wedding day wouldn't be complete without your bridesmaids, and neither would your wedding photo collection. You will have many chances to stand side by side and smile for the camera, but there are a few exclusive photos that should not be missing from your collection.
Take a Look at Tips for the Groom to Be at Ease for His Wedding Photos
Your bridesmaids have been with you through thick and thin, and will now stand by your side as you marry your soulmate. You chose them specifically, whether it be for your long relationship through the years, your family bond, your instant connection, or the many times they have helped you battle the obstacles that life has thrown your way. They are your partners in crime, and now they will support you as you join your new partner in crime, forever bound through marriage.
We understand just how important your bridesmaids are! That's why, here at M Place Productions, as Las Vegas wedding photographers, we have gathered some photos that you will want to capture with your bridesmaids on your own big day. Would you like to discover what these photos are? If so, be sure to read on:
A Toast

Once the hairstyles are perfect, the makeup is applied, and you are ready to jump into your wedding ensembles, take a second to toast to your nuptials! This can be your chance for a little alone time with your girls before you make your way to the ceremony. You are about to be surrounded by many loved ones that will take your attention away from your bridesmaids, so taking this opportunity to spend a few moments with them will add precious memories to your big day. You can toast to their support, and they can provide a simple, yet heartfelt, toast to you and your future that stays personal and behind the scenes. This is also the perfect opportunity to embrace them in a hug after their kind words.

A First-Look

They may have been with you while you were getting dolled up for your big day, but they haven't seen the whole impact of your dress with your cosmetics just yet. You can "wow" your bridesmaids with your finished wedding look and capture those priceless faces as they see their best friend in all her glory before her big walk down the aisle. You will want to remember the happy shock that lit up their faces!

The Journey

This is it, the moment you make your way to the ceremony where your life will forever be bonded to your soulmate. Your bridesmaids will escort you to the ceremony, and believe it or not, this is a great time for some photos! This is an exciting part, leading up to your big event, and your girls are there by your side, the whole way. Catch a few shots of the support from your bridesmaids for some truly heartfelt photos!
Your wedding collection will prominently feature your bridesmaids, as they are your best friends and should be featured in such a life changing event! These are just a few photos that you will want to ensure that you capture with them.
View Ways to Guarantee That You Will Love Your Wedding Photos
Are you preparing to have your own big day captured by a wedding photographer in Las Vegas, Nevada? If so, please contact us here at M Place Productions, as we would be excited with the opportunity to preserve your memories!