BACK TO BLOG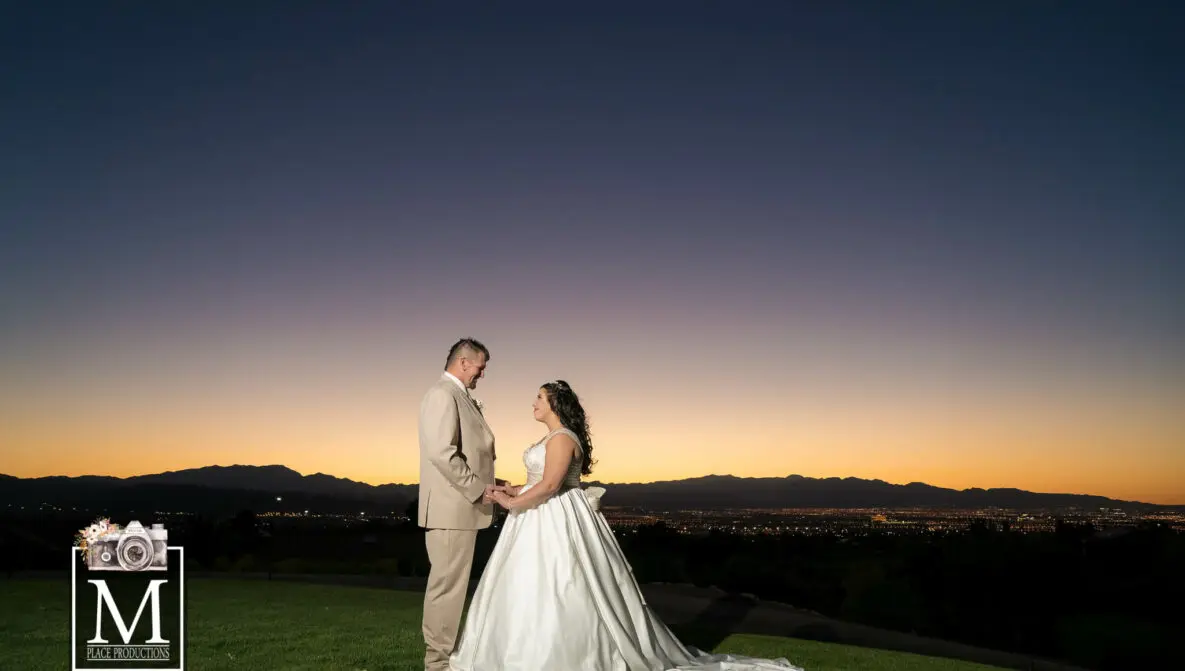 Unique Las Vegas Wedding Photography Inspiration
Your flowers, your wedding dress, your playlist; everything about your big day has been chosen to be unique and special for you and your partner! Your wedding is a once in a lifetime event where you and your partner will join lives together, beginning your journey to your happily ever after. Therefore, it should be spectacular!
Take a Look at How a Professional Photographer Captures Engagement Photos
You can continue making every wedding element unique, within your wedding photos. After all, your photographs will be what shows how incredible your big day was. With such an important event, shouldn't your wedding album be a unique and exclusive display of the wedding memories you created?
Here at M Place Productions, as Las Vegas wedding photographers, we believe that every newlywed couple should have an exceptional wedding album! That's why we have put together a few unique points of photography inspiration for you to utilize throughout your own wedding album. If you are hosting a wedding and want a photo collection that is unparalleled, be sure to continue reading to become inspired:
Slipping into Your Wedding Dress

Getting ready shots are quite the trend within wedding photography in today's world. You will receive a unique view of yourself getting dolled up for your grand walk down the aisle. After your makeup is meticulously applied, and your hair has been styled to perfection, it will then be time to slip into your dress! You certainly worked hard to find this dress, so why not capture that moment of bliss as you allow it to adorn your gorgeous self?

The Cake Cutting Ceremony

Surely, the wedding cake cutting has been done a multitude of times, but sometimes traditions are too beautiful and meaningful to not give recognition to. Cutting your cake together and tasting it after you are introduced as newlyweds never gets old. You will be able to capture the anticipation as it builds, as you showcase whether or not you choose to smash cake into each other's faces, or nicely feed it to one another. These photos will certainly be celebratory!

The "Almost" Kiss

Truly captivating photos can evoke emotion from you. Imagine seeing a photo of you and your partner as you almost share a kiss. Your lips are so close, your eyes are closed in anticipation, and your hand is over your partner's heart. The passion and romance can emanate from the photo, allowing the viewer feel the romance that you and your partner share. This is a lovely shot that you can capture within your wedding album that will spark genuine intimacy and emotion.

The Forehead Kiss

For those couples that prefer elegant photos, you will likely enjoy the forehead kiss shot. This is a way that you and your partner can display a sweet glimpse into your love for each other. It has been said that the forehead kiss can show the respect that you have for each other, as well as your intent to protect each other.
There is no right or wrong way to display your unique character within your wedding album. These are just a few ways in which you can add some uniqueness to your own wedding photo collection.
View How to Showcase Your Beauty Through Portrait Photography
Are you all set to have your own nuptials captured by a wedding photographer in Las Vegas, Nevada? If so, please don't hesitate to get in touch with us here at M Place Productions, as we would be thrilled with the opportunity to be yours!